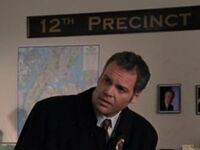 The 12th Precinct is a police station from the New York City Police Department.
Detectives Robert Goren and Alexandra Eames visited the precinct during their investigation into the death of Laura Dietrich. (CI: "Monster")
Ed Tucker later investigated the entire precinct for kickbacks, extortion and rape. (SVU: "Internal Affairs")
It is later mentioned that a dirty cop from the 12th that was previously thought to have committed suicide was actually killed by Anton Nadari. (SVU: "Gambler's Fallacy")
Known personnel
Edit
Lieutenant Terrance Wood, arrested for attempted murder.
Detective Ted Marston, arrested for the murder of Laura Dietrich.
Officer West, arrested for serial rape and attempted murder.
Officer Ryan Quinn, arrested for accomplice to rape and attempted murder.
Officer Michael Groves
Officer Kenneth Parker
Ad blocker interference detected!
Wikia is a free-to-use site that makes money from advertising. We have a modified experience for viewers using ad blockers

Wikia is not accessible if you've made further modifications. Remove the custom ad blocker rule(s) and the page will load as expected.