Detectives Goren and Eames investigate a deadly mystery after an elderly woman dies in a fire.
Plot
Plot
Cast
Main cast
Guest cast
References
References
Quotes
"It's a homeopathic remedy for cat allergies. Microscopic cat dander you put on your tongue. I had a girlfriend named Lola, she had cats."
"You ate furballs for her?"

- Robert Goren and Alexandra Eames

"Bonds are a little like potato chips, people don't usually buy just one."

- James Deakins

"You know, you're awfully snoopy."
"A lot of people point that out."

- Stan Coffman and Alexandra Eames

"The reason why I keep harping on the bearer bond– do you have a medical condition?"

- Robert Goren

"Maybe she thought she'd inherit some cash to go with the cats."

- Alexandra Eames
Background information and notes
This is the third time that actors Paul Dooley and Dennis Christopher have played father and son roles, appearing as Stan and Roger Coffman, respectively. They appeared previously in the films A Wedding (1978), as Liam and Hughie Brenner, and in Breaking Away (1979), as Raymond and Dave Stoller.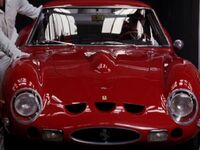 Cars amassed by Roger Coffman:

1957 Chevrolet Bel Air
1962 Ferrari GTO
1964 Porsche 904 Carrera GTS
1965 Jaguar XKE Roadster
1966 Corvette Stingray
1967 Ford Mustang Shelby GT 500
1968 Chevrolet Camaro
Detective Robert Goren says that there are only 32 Ferrari GTO made, but it is believed that there were 36 produced.
Ad blocker interference detected!
Wikia is a free-to-use site that makes money from advertising. We have a modified experience for viewers using ad blockers

Wikia is not accessible if you've made further modifications. Remove the custom ad blocker rule(s) and the page will load as expected.