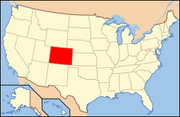 The State of Colorado is a western state of the United States of America, gaining statehood in 1876.
On April 20, 1999, Denver was the site of the Columbine High School massacre. It was the second massacre in Columbine after coal miners on strike were slaughtered by machine gun-wielding state police back in 1927.
Casey Novak had Robert Morten transferred to a maximum security federal prison in ADX Florence.
People living in Colorado
Edit
Ad blocker interference detected!
Wikia is a free-to-use site that makes money from advertising. We have a modified experience for viewers using ad blockers

Wikia is not accessible if you've made further modifications. Remove the custom ad blocker rule(s) and the page will load as expected.