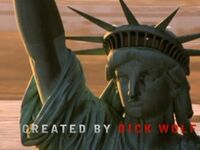 Conviction was a television drama series from NBC that premiered in March 2006. It focused on a group of young, up-and-coming Manhattan Assistant District Attorneys. The series took place in the same continuity as the other Law & Order series, but focused more on the lives of the characters, unlike the other crime- and trial-based series, so its title did not include "Law & Order". Actress Stephanie March reprised her role as Alexandra Cabot, an Assistant District Attorney introduced in Law & Order: Special Victims Unit.

Episodes
Edit
Season 1
Edit
External link
Edit
Ad blocker interference detected!
Wikia is a free-to-use site that makes money from advertising. We have a modified experience for viewers using ad blockers

Wikia is not accessible if you've made further modifications. Remove the custom ad blocker rule(s) and the page will load as expected.