David Ross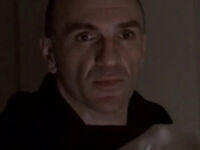 Characters
Zivkovic & Security Guard
Date of birth
31 May
1945
Place of birth
Blackburn, Lancashire, England, UK
IMDb profile
David Ross is an actor who played Zivkovic in the Law & Order: Criminal Intent pilot episode "One". Ross also appeared in the Law & Order season seventeen episode "Fallout" as an unnamed Security Guard.
Ross made several guest appearances in other television series, including Red Dwarf, Coronation Street, and Midsomer Murders.
Ad blocker interference detected!
Wikia is a free-to-use site that makes money from advertising. We have a modified experience for viewers using ad blockers

Wikia is not accessible if you've made further modifications. Remove the custom ad blocker rule(s) and the page will load as expected.