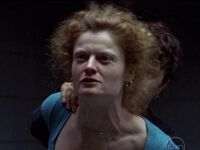 Dede McCann is a character who appears in the CI Season 5 episode Diamond Dogs. A drug addict, she enlists her son (and fellow junkie) Johnny Feist in robbing a series of jewelry stores to feed their habit. Johnny turns her in to the Major Case Squad after she kills his girlfriend Mya Sampson.
She is played by actress Rebecca Wisocky.
This article is a stub. You can help the Law & Order Wiki by expanding it.