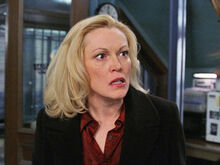 Denise Eldridge is the mother of Carrie and is murdered by her daughter early on in the episode.
She discovers Carrie and her 6 years older boyfriend Justin engaging in supposed kissing under the covers and calls it rape. She tries to get Carrie to get a rape kit but an attorney intervenes on her behalf. She goes after the doctor but she is again denied the right to have her daughter undergo an examination.
Denise is very brash, arrogant, aghast, argumentative and has a temper. She is later shown to be an alcoholic, hiding bottles in every nook and cranny that is not visible to anyone that would visit the home.
Her life comes to an end when she is hit with a lamp. She survives for very little time, dragging across the floor and finally succumbing to her injuries. Before her death, she had allegedly slapped Carrie and yelled at her and called her names.
Ad blocker interference detected!
Wikia is a free-to-use site that makes money from advertising. We have a modified experience for viewers using ad blockers

Wikia is not accessible if you've made further modifications. Remove the custom ad blocker rule(s) and the page will load as expected.