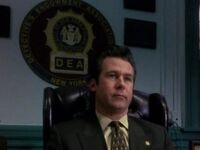 The Detective's Endowment Association (DEA) is a union for officers from the New York City Police Department.
Detective Ted Marston visited the office of the DEA, after four former rape suspects sued the city of New York and the police. He was afraid that he had to take the fall for the $100 million lawsuit. The DEA couldn't help him. (CI: "Monster")
Ad blocker interference detected!
Wikia is a free-to-use site that makes money from advertising. We have a modified experience for viewers using ad blockers

Wikia is not accessible if you've made further modifications. Remove the custom ad blocker rule(s) and the page will load as expected.