Ad blocker interference detected!
Wikia is a free-to-use site that makes money from advertising. We have a modified experience for viewers using ad blockers

Wikia is not accessible if you've made further modifications. Remove the custom ad blocker rule(s) and the page will load as expected.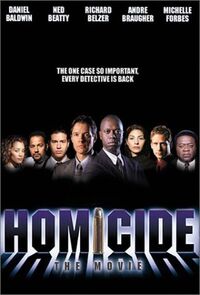 Homicide: The Movie is set just after the series concludes, the detectives from all seven season of "Homicide" return to solve the shooting of one of their own.
Former Shift Commander Al "Gee" Giardello (Yaphet Kotto) is running for Mayor of Baltimore on a controversial platform that has earned him more than a few enemies. Just as he is about to deliver a political speech, Gee is shot multiple times and is rushed to the hosptial. His former colleagues, including Det. Stanley 'The Big Man' Bolander, ret.; Det. John Munch (NYPD); Det. Frank Pembleton, ret.; Det. Tim Bayliss; Mike Kellerman, P.I.; Det. Meldrick Lewis, Det. Paul Fasone;
Det. Laura Ballard; Det. Terri Stivers, Det. Rene Sheppard and son Officer Mike Giardello reunite to investigate the incident. Also on hand are the recently promoted Lt. Stewart Gharty, the former and current Chief Medical Examiners, Dr. Julianna Cox and Dr. George Grisome, former Capt./Lt./Det. Megan Russert from France