The Republic of India is a large country in Asia which forms the divide between the Middle East and the Near East. It is bordered by Pakistan to the west (which were, in fact, formerly part of India), China, Bhutan and Nepal to the north, and Bangladesh and Myanmar to the east. Just off of its south coast lies the island nation of Sri Lanka.
On December 24, 1999, Indian Airlines Flight 814 was hijacked. When the Talbian surrounded the aircraft, therefore preventing Indian commandos from storming the aircraft, the Indian authorities had no choice but to negotiate with the hijackers. Unfortunately, the passengers were exchanged for three terrorists, one of whom financed the September 11 attacks. Though the hijackers were armed with handguns and hand grenades, one passenger was stabbed to death.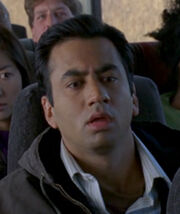 As an emerging world power, India has seen its fair share of economic turmoil, compounded by ongoing religious and ethnic-based tensions with Pakistan and a persistent caste system which denies economic opportunities to many Indian citizens despite the government's attempts to do away with the system. The caste system pervades particularly affluent Indian families, like that of Dr.
Rankesh Chanoor
, who disowned his American-born son
Henry
because the boy had not comported himself in a manner that Dr. Chanoor felt suited the family's caste. Henry sought revenge by raping his father's patients so that Dr. Chanoor's practice would be ruined by scandal. (
SVU
: "
Outsider
")
The resulting economic turmoil has driven many Indians to England and the United States of America, particularly New York City. Among the hundreds of Indians who have arrived in the Big Apple, one of the most infamous is antiquities dealer Hydar Raheem, who conspired with Afghan drug lord Qaadar Khaleel to bring heroin into New York. Raheem brought the drugs into the country by hiding them in the frames of Hindu religious prints, but was caught in a sting operation coordinated by the Manhattan Homicide Department. (L&O: "Enemy")
Ad blocker interference detected!
Wikia is a free-to-use site that makes money from advertising. We have a modified experience for viewers using ad blockers

Wikia is not accessible if you've made further modifications. Remove the custom ad blocker rule(s) and the page will load as expected.