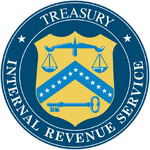 The Internal Revenue Service, commonly known as the IRS, is an agency of the United States Government charged with collecting revenue and enforcing the nation's tax laws. It is a part of the Department of the Treasury.
It has the power to freeze bank accounts for failure to pay taxes. It did so in the case of Sydney Markham, and believed that it had told him how to remedy the situation. The IRS was unaware that it was actually communicating with Didier Foucault, who was impersonating Markham. (CI: The Extra Man)
This article is a stub. You can help the Law & Order Wiki by expanding it.
Ad blocker interference detected!
Wikia is a free-to-use site that makes money from advertising. We have a modified experience for viewers using ad blockers

Wikia is not accessible if you've made further modifications. Remove the custom ad blocker rule(s) and the page will load as expected.