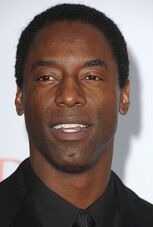 Isaiah Washington (born on August 3, 1963 in Houston, Texas) is an actor who is well-known for his television roles as Dr. Preston Burke on "Grey's Anatomy" and currently Thelonious Jaha on "The 100."
He has also starred in films such as "Crooklyn," "Clockers," "Girl 6", "Bulworth" and "Romeo Must Die."
In the Law & Order franchise, he has guest-starred in episodes of Law & Order and Law & Order: LA.
Appearances
Edit
Law & Order
Law & Order: LA
Ad blocker interference detected!
Wikia is a free-to-use site that makes money from advertising. We have a modified experience for viewers using ad blockers

Wikia is not accessible if you've made further modifications. Remove the custom ad blocker rule(s) and the page will load as expected.