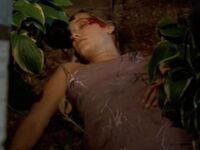 Jeanne Gallagher was a sophomore at St. Raymond's University.
Jeanne was a hostess for the university's basketball team. During this time she was raped by one of the star basketball players, Riley Couger. The school was afraid that it would lose one of its big players, and effectively covered up the crime. Jeanne became secluded after the rape, and started drinking heavily. After moving in with her parents, she fell into a deep depression.
Approximately two months later she attended a party organized for the basketball team. Jeanne made love to another basketball player, Chuck Mosley, and consumed a lot of alcohol that night. She left the party alone, and was killed by a drunken tumble from the stairs. She hit her head against a building, and died almost instantly.
Unknown to anyone at the time was that Professor James Henri Rousseau had become obsessed with her. He followed her around while making several advances to her. The university brushed the accusations of Jeanne away. On the night of Jeanne's death, James watched her while she made love to Chuck. After that he followed her, and saw her die before his eyes. He carried her body into the bushes, and made love to her. After the discovery of her body, Detectives from the Special Victims Unit where called in to investigate the case as a rape-homicide. (SVU: "Sophomore Jinx")
Ad blocker interference detected!
Wikia is a free-to-use site that makes money from advertising. We have a modified experience for viewers using ad blockers

Wikia is not accessible if you've made further modifications. Remove the custom ad blocker rule(s) and the page will load as expected.