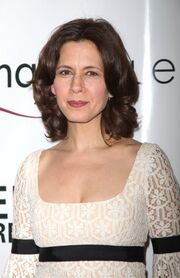 Jessica Hecht (born Jessica Anne Hecht on June 28, 1965 in Princeton, New Jersey) is an actress who has appeared in television shows such as Seinfeld, Friends and Breaking Bad.
She has guest-starred in the Law & Order franchise.
Appearances
Edit
Law & Order: Special Victims Unit
Law & Order
Ad blocker interference detected!
Wikia is a free-to-use site that makes money from advertising. We have a modified experience for viewers using ad blockers

Wikia is not accessible if you've made further modifications. Remove the custom ad blocker rule(s) and the page will load as expected.