"Согласно российскому уголовному законодательству "умысел" - это форма вины преступника, при которой он осознаёт общественно опасный характер своих действий и предвидит неизбежность возможных последствий. Преступления, причисляемые к разряду особо тяжких, всегда совершаются с умыслом. Ими занимаются следователи по особо важным делам. Вот их истории."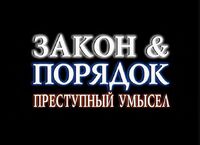 Law & Order: Criminal Intent (rus: Закон и Порядок: Преступный умысел) is a Russian television series shown on NTV. The series was adapted from Law & Order: Criminal Intent and produced by Studio 2V in cooperation with Global American Television.
Image
Actor
Character
Igor Lagutin
(Игорь Лагутин)
Major Georgiy Loginov
(Майор Георгий Логинов)
Alyona Kovalchuk
(Алена Ковальчук)
Major Irina Petrovskaja
(Майор Ирина Петровская)
Mikhail Khomyakov
(Михаил Хомяков)
Head of Department Leonid Dontsov
(Начальник отдела Леонид Донцов)
Boris Mironov
(Борис Миронов)
Attorney Karpov
(Прокурор Карпов)
Episodes
Edit
Season 1
Edit
Season 2
Edit
Season 3
Edit
Originally Studio 2V wanted to create romantic relationship between Major Georgiy Loginov and Major Irina Petrovskaja, but Wolf Films was against it.
Character played by Igor Lagutin - Major Loginov (Robert Goren equivalent) could be homage to Mike Logan. Loginov is basically russified version of Logan (Login + ov).
External links
Edit
Ad blocker interference detected!
Wikia is a free-to-use site that makes money from advertising. We have a modified experience for viewers using ad blockers

Wikia is not accessible if you've made further modifications. Remove the custom ad blocker rule(s) and the page will load as expected.