Welcome to the Law & Order Wiki!
The Law & Order Wiki is a free, public and collaborative encyclopedia, dedicated to information and discussion on the number of related American television programs created by Dick Wolf and originally broadcast on NBC, all of which deal with some aspect of the New York City criminal justice system. So far, 1,106 episodes have been produced in the franchise.
IMPORTANT NOTICE: Please respect all views and all perspectives. This Wikia is meant for a better understanding of the series, and for a strong, friendly community. Hateful or vulgar posts against someone or something can and will be removed by the Admins. Thank you for reading this notice; please spread the word, and keep it nice. This Wikia contains major spoilers, either from the show, or book series, or both; they are in no way censored.
CAUTION: This Wikia contains spoilers from The Law & Order franchise TV series.
Featured Article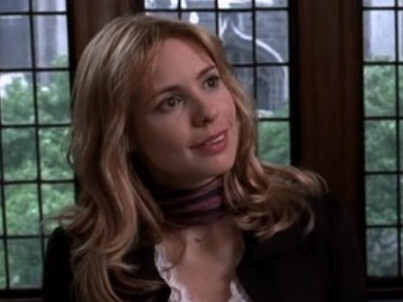 Nicole Wallace
was a serial killer and criminal mastermind whose actions were often investigated by
Robert Goren
and
Alexandra Eames
. Though accused of murdering several individuals, she was only arrested once, and was found not guilty at the resulting trial.
Very little is known about Wallace's past, although it was apparently so painful that she went to great lengths to keep anyone from learning about it. As best as can be determined, she was born somewhere in Queensland, Australia. Detective Goren once speculated that she was molested by her father from the time she was three years old up until an undetermined date. Wallace has vehemently denied this is true, but once said in private that "sometimes daddies love too much".
As an adult, she married Rohan Bartlett, and the two had a daughter together. Things were apparently normal up until the daughter turned three. After that point, Nicole began to fear that her daughter would become a rival for Rohan's affections and she broke the girl's neck and arm, killing her. Later that day she came up with the cover story that her daughter drowned in the waters off Stradbroke Island. She was never conclusively connected to the crime, but a year later, she left the country under the name of Elizabeth Hitchens after her daughter's body was discovered. Police in Brisbane later found the body of an unidentified woman, suspected to be the real Hitchens.
Did You Know?
...that Mariska Hargitay's father, Mickey, appeared in the Law & Order: Special Victims Unit episode "Control"?

...that before Jerry Orbach joined the cast of Law & Order as Detective Lennie Briscoe, he played the role of Defense Attorney Frank Lehrman in the episode "The Wages of Love"?

...that the Special Victims Unit is stationed at the 16th Precinct?

...that before Jeremy Sisto joined Law & Order as Detective Cyrus Lupo, he played the role of Defense Attorney Clint Glover in the episode "The Family Hour"?

Links/See also
Featured Image
Blogs
Latest Blog Posts
---