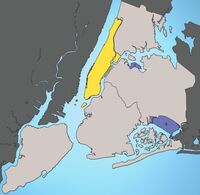 Manhattan is an island borough of New York City, coterminous with New York County.
Manhattan Island is bounded by the Hudson River to the west and the East River to the east. To the north, the Harlem River divides Manhattan from The Bronx and the mainland United States.
The World Trade Center was located in Lower Manhattan. (CI: "World's Fair")
Landmarks
Edit
Social & Human Services
Edit
Hospitals
Edit
Businesses
Edit
Status unknown following Lawrence's incarceration for negligence in the death of Nora Hackett
Restaurants
Edit
Known residents
Edit
Presumably sold shortly after Hensley's near-death at the hands of Humphrey Becker
Former residents
Edit
External link
Edit
Ad blocker interference detected!
Wikia is a free-to-use site that makes money from advertising. We have a modified experience for viewers using ad blockers

Wikia is not accessible if you've made further modifications. Remove the custom ad blocker rule(s) and the page will load as expected.