Mary Steenburgen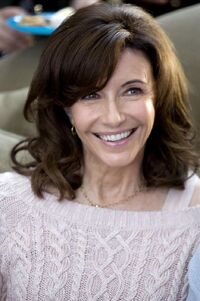 Character
Grace Rinato
Date of birth
February 8th, 1953
Place of birth
Newport, Arkansas, USA
IMDb profile
Mary Steenburgen (born February 8, 1953 in Newport, Arkansas) is an actress who is known for her role in films such as What's Eating Gilbert Grape?, Parenthood and Back to the Future Part III. On television, she starred in the CBS television series Joan of Arcadia.
In 2002, she guest-starred on Law & Order: Special Victims Unit in the episode "Denial" as Grace Rinato.
Trivia
She is married to Cheers and The Good Place actor Ted Danson since 1995.