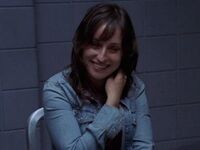 Mya Sampson is a character who appears in the CI Season 5 episode Diamond Dogs. She is the girlfriend of drug addict and robber Johnny Feist. She is murdered by Johnny's mother Dede McCann.
She is played by actress Zoe Lister Jones.
This article is a stub. You can help the Law & Order Wiki by expanding it.