Overview of personnel from the NYPD Traffic Control Division.
Cheryl & Andre
Edit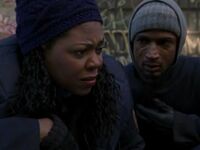 Cheryl (played by Gwen Stewart) and Andre (played by Elvis Nolasco) wanted to use a tow truck from the Traffic Division to remove a wrongly parked car. They stopped their efforts, when they discovered blood coming out of the trunk. (SVU:"Mean")
Ad blocker interference detected!
Wikia is a free-to-use site that makes money from advertising. We have a modified experience for viewers using ad blockers

Wikia is not accessible if you've made further modifications. Remove the custom ad blocker rule(s) and the page will load as expected.