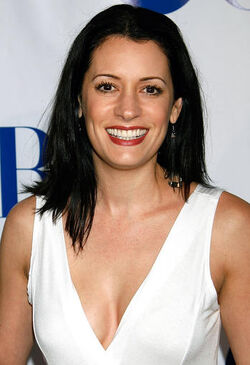 Paget Valerie Brewster (born March 10, 1969) is an American Actress. Her best known roles are Kathy on NBC's Friends (first as Joey's girlfriend and later Chandler's), Supervisory Special Agent Emily Prentiss on CBS's Criminal Minds. 
Brewster was born on March 10, 1969 in Concord, Massachusetts. Her mother, Hathaway Brewster, worked as a government official, and her father, Galen Brewster, worked as a school administrator. She has a younger brother, Ivan.
Brewster grew up in Massachusetts and moved to New York City to attend Parsons School of Design. During her first year, she made her acting debut and eventually dropped out of design school to pursue her acting career. In the mid '90s, Brewster moved to San Francisco and enrolled in acting classes. She currently resides in Los Angeles.
She has appeared twice on Law & Order: SVU, first as abuse victim Sheila Tierney (SVU:Scheherazade) and the second time as Public Integrity Unit Bureau Chief Paula Foster (SVU: Lost Reputation, Above Suspicion)