Robert Goren
Talk

3
5,257pages on
this wiki
"Are you insane?"
"Yes."

A suspect and Goren, To the Boy in the Blue Knit Cap
Robert Goren (born August 20, 1961) -- nicknamed 'Bobby' by many, was a detective in the Major Case Squad in the NYPD, partnered with Alexandra Eames. He is an intense, intelligent, and imposing man who uses his intuition and insight into human nature to size up suspects and pick apart the details of crimes.
Moving on
Edit
Eames is on loan to the joint City/Federal Homeland Security Task Force. Benson asks Eames why she stared at the suspect with a tilted head, and Eames responds that it was something her partner taught her while at MCS. She briefly mentions to Benson that her partner at MCS moved on after 11 years of working together and for her it was also time for a change. (SVU: Acceptable Loss)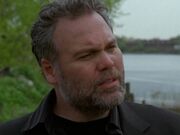 His Social Security number is 845-67-3906. Nicole Wallace somehow obtained it, much to Goren's dismay.
One of Goren's favorite magazines is the Smithsonian Magazine. He subscribes to it because it fits well on his treadmill.
Goren hates beaches, although he will go to one as part of his job.
He is Pro-Choice
Appearances
Edit
Canon (1 show, 9 seasons, 133 episodes, 1 game)