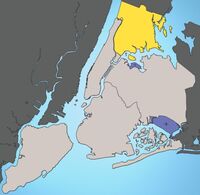 The Bronx is New York City's northernmost borough, coterminous with Bronx County.
The Bronx is located northeast of Manhattan. It is the only one of the city's five boroughs situated primarily on the United States mainland (the others are on islands).
External link
Edit
Ad blocker interference detected!
Wikia is a free-to-use site that makes money from advertising. We have a modified experience for viewers using ad blockers

Wikia is not accessible if you've made further modifications. Remove the custom ad blocker rule(s) and the page will load as expected.