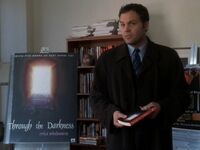 Through the Darkness, in the CI installment "Faith," was a novel supposedly written by Erica Windemere.
The novel was autobiographical, and it described the many unfortunate things to befall her. This included being afflicted with amyotrophic lateral sclerosis, having been raped numerous times by drug gangs, and having suffered abuse from her birth parents. Despite all of this, Erica still maintained a positive attitude about her life, and was seemingly very kind towards others.
These factors helped make the book very popular, and it was even a television show's book club selection.
According to the publisher, it was "very raw" when they received it. Due to the efforts of an editor by the name of Christine Wilkes, it was greatly improved.
What was not known until later, however, was that Erica Windemere did not exist. She was an invention of Barb and Toby Windemere, and was part of an elaborate scheme to steal money. (CI:"Faith")
Ad blocker interference detected!
Wikia is a free-to-use site that makes money from advertising. We have a modified experience for viewers using ad blockers

Wikia is not accessible if you've made further modifications. Remove the custom ad blocker rule(s) and the page will load as expected.