Ad blocker interference detected!
Wikia is a free-to-use site that makes money from advertising. We have a modified experience for viewers using ad blockers

Wikia is not accessible if you've made further modifications. Remove the custom ad blocker rule(s) and the page will load as expected.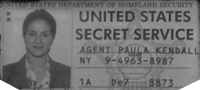 The United States Secret Service is a federal government law enforcement agency that is part of the United States Department of Homeland Security. Until March 1, 2003, the Secret Service was part of the United States Department of Treasury.
It has jurisdiction over financial crimes, including counterfeiting and credit card fraud. They also are charged with protecting the President of the United States, candidates for President, and other government officials.
The Secret Service had an agent undercover in an operation against illegal gambling that had links to organized crime. The agent, Doug Kirsten, was suspected by SVU of a murder until Agent Tom Cole cleared him. (SVU: "Class")
The Secret Service provided protection to Senator Randolph Kittridge after he received death threats due to his support of the Voting Rights Act of 1964. One of the agents assigned to protect him was Mr. Monahan. (CI: "Cold Comfort")
Paula Kendall was an agent of the Secret Service. (CI: "Wasichu")