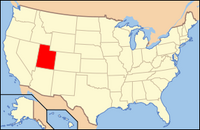 The State of Utah is a state of the United States of America, achieving statehood in 1896. Utah is known for its history with polygamist Mormonism.
The ex-husband of Shelly Ganz lives in Utah. (L&O: "Barter") Penny Rollins spent a camping trip in Utah for two weeks. (L&O: "High & Low")
People from Utah
Edit
Ad blocker interference detected!
Wikia is a free-to-use site that makes money from advertising. We have a modified experience for viewers using ad blockers

Wikia is not accessible if you've made further modifications. Remove the custom ad blocker rule(s) and the page will load as expected.